Challenges with epilepsy diagnosis and monitoring
Patient reporting and seizure diaries are inaccurate
Uncertainty of treatment effect due to infrequent visits
Access to EMU can be restricted – long waiting lists
No seizures or atypical seizures during EMU stay
There can be a lack of personnel to review all VEEG data
Events can be missed, even by most experienced people
EMU can be located far from patient's home
Patients don't always like prolonged stay at EMU
Nelli® uses an easy workflow and platform.
The combination of AI and human
expertise, without EEG, is revolutionary.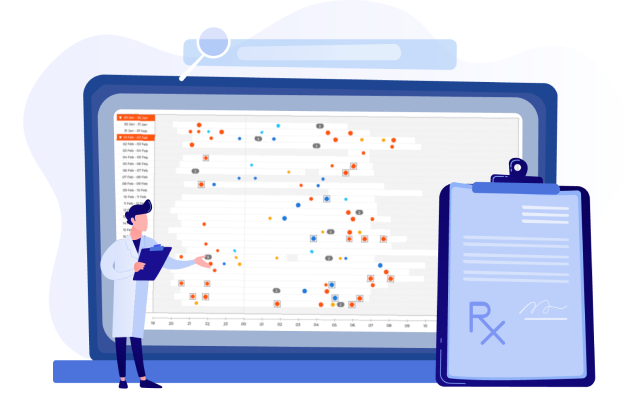 When is Nelli® used?
Prescreening
An easy way to optimise the flow to the EMU, potentially eliminating the need for admission or allowing for better information when the patient gets admitted
Diagnosis
Helping with differential diagnosis, classification, quantification of seizure types and complex case analysis – all based on objective information.
Treatment effect
Effective way to assess effect of treatment and treatment changes at home. Complements seizure diaries which are inaccurate.
Nelli® provides value
Faster, better diagnosis and follow-up

Better understanding the type and number of events helps the physician prescribe the right treatment – Monitoring at home helps assessing whether it works and make the necessary changes which leads to better outcomes.

Safer

Reducing the need to provoke seizures on the EMU, eliminates the risks associated with it. Understanding if a treatment alleviates or increases seizures, allows for quicker corrective action if needed and can eliminate side-effects and risk associated.

Reduced burden for the patient

Patient can be diagnosed and monitored at home which is more comfortable and reduces need for travel. Patients and caregivers don't need to worry about counting seizures at night.

Cost-effective

Use of Nelli® at home can reduce the need for prolonged, expensive hospital stays. A better remote understanding of the treatment effect eliminates the need for frequent consultations.
What physicians are saying about Nelli®
Client Testimonials
Nelli® is very useful tool for detection of epileptic seizures, classification and quantification of seizures. The great advantage is that is can be used both in hospital environments and at patients' home.

Dragan Marjanovic

MD, Senior Physician, Department of Neurology, Danish Epilepsy Centre

Our clinical experience with the Nelli® is great, the mere possibility to obtain long filmed sequences of the epilepsy patient is a very helpful tool and the AI-interpretation is – to our experience – something that helps the clinician in making plans for the subsequent diagnostic epilepsy work-up.

Patrick E Vigren

MD, PhD, Head of Neurology Department, University Hospital Linköping

One of the biggest challenges in treatment of epilepsy is the lack of reliable data about seizures each individual patient suffers. That is why we have been using Nelli® developed by Neuro Event Labs Oy. Nelli® has been used at the Department of Neurology for clinical use since 2017 both in hospital and home monitoring. Clinical benefits has been undeniable.

Sirpa Rainesalo

MD, PhD, Head of Neurology Department, Tampere University Hospital

Our collaboration with NEL has been very productive in conceiving new monitoring and treatment algorithms for our epilepsy patients. The interaction with NEL has been easy and straightforward in search of the best solutions.

Mads Ravnborg

Medical Director, MD, DMSc, Danish Epilepsy Center